February 21, 2022
FOR IMMEDIATE RELEASE
Contact: Megan Van Petten | [email protected]
February 17, 2022
The Esports Trade Association Welcomes the 2022 Advisory Board
Industry Influencers Reflect the Exciting Growth of Association Membership
Chicago - The Esports Trade Association (ESTA)
is pleased to announce a new 2022 Advisory Board. The ESTA board is comprised of talented, diverse individuals across a multitude of businesses in the ever-growing esports industry. John Davidson, of Davidson Learning Company & Production Resource Group, returns as the Board Chair. Sharon Gill, Sharon Gill International, Inc., returns as the Chief Leadership Strategist and Ex-officio Member. Megan Van Petten, ESTA Founder, returns as the Managing Director.
"The esports industry continues to grow with roots in communities across the country and around the globe," Mr. Davidson said. "As Board Chair for a second term, I am excited to continue working alongside our industry's influencers to establish an instantly recognizable community that supports new and established stakeholders, improve business practices throughout the industry, and ultimately, enable gamers to enjoy more of what we love."
"I am pleased with the breadth of experience of our 2022 Advisory Board. With their talent, we are poised to create a thriving community," Ms. Gill said. "We look forward to the benefits this will yield, not only for our membership but for the esports industry at large."
Members of ESTA's Advisory Board serve a 1-year term and participate in quarterly meetings that help shape the association's programs, policies, and initiatives. There are 14 members on ESTA's Advisory Board.
Announcing ESTA's 2022 Advisory Board:
Robert Atkins, BALANCED Media | Technology

Drew Casper, Gannett /

USA Today / Local IQ 

Charles Conroy,

The Switch

Brett Diamond,

Version 1 + Minnesota ROKKR

Jeff Donnelley, MegaFans

Mike Ellsworth, Lightware Visual Engineering

Chris Gronkowski, Ice Shaker

James Hess, Encore

Jenna Johnson,

Version 1 + Minnesota ROKKR

Jacob Miles, MAP Esports Network

Ryan Morrison, Morrison Rothman/Evolved Talent Agency

Scott Quinto, Morgan Stanley

Greg Skasko, Abacus3

Shae Williams,

Coalition of Parents in Esports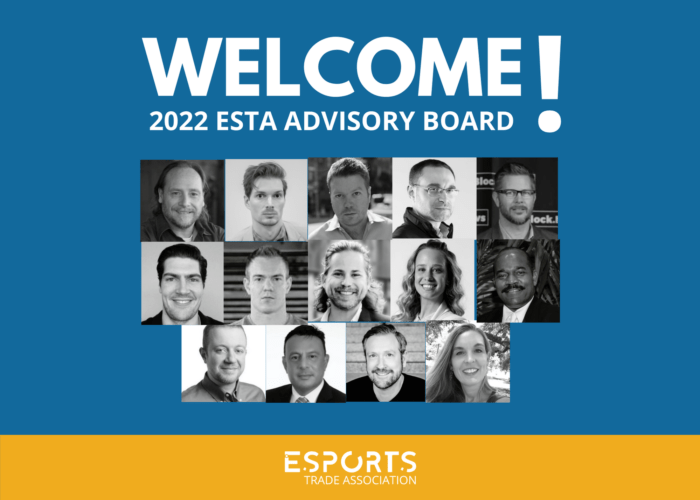 "We are excited to forge a path that positively impacts the esports industry with our newly elected and appointed advisory board members," Megan Van Petten, ESTA Founder and Managing Director, said. "The ESTA Advisory Board provides an expansion of knowledge and expertise for our industry and this year our plans for success are blossoming by the commitment from these esports industry influencers."
Media inquiries are welcome. Please contact
Megan Van Petten
at
[email protected]
for press credentials and more information. 
What is the Esports Trade Association?
The ESTA
promotes, protects, and advances the broader interests of the esports community. We provide forward-thinking professional development programs, networking opportunities, relevant industry research, and valuable tools and resources to the membership. The Level Up Fund is a charitable initiative created by ESTA to further promote, protect, and advance the broader interests of the esports community. With the expansive growth the esports industry is currently facing, we believe it is important to give back to organizations that will further impact the industry and will provide assistance to those in need.
Categorized in: Esports News, ESTA News, In the News, Press Releases