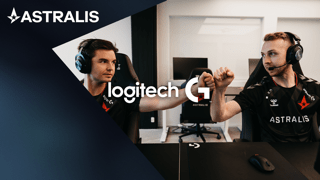 January 4, 2021
Esports Business – Astralis Group & Logitech G : Astralis Group and Logitech G have just announced a new, significant commercial partnership which solidifies the common long-term ambitions of the two companies.
Astralis Group and Logitech G have extended their cooperation for another three years. The international esports powerhouse and one of the world's leading gaming technology companies have extended their agreement to include co-branding rights, as well as gear and equipment for the Astralis teams and facilities, existing and new. In addition to the Logitech G PRO mice and keyboards, which Astralis has been using for the last 2 years in all competition, they will also have access to the Logitech G PRO gaming headset lineup.
Jakob Lund Kristensen, co-Founder and CCO of Astralis Group:
– On all levels this is a significant agreement for Astralis Group. It is one of our most important partners to date and the relationship we've built with Logitech G over the last 2 years has allowed us to cement our position as a global powerhouse in esports.
Categorized in: Esports News