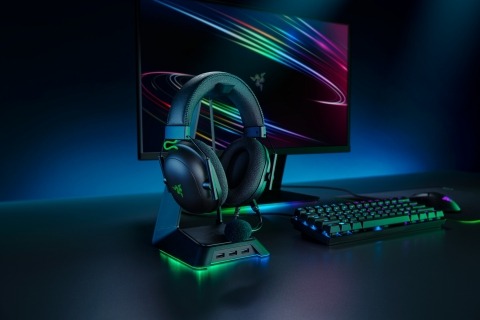 September 25, 2020
INE, Calif.–(BUSINESS WIRE)–Razer™, the leading global lifestyle brand for gamers, today announced the definitive esports headset with the Razer BlackShark V2. Featuring the all-new Razer™ TriForce Titanium 50mm Drivers, Razer™ HyperClear Cardioid Mic with USB Sound Card, advanced passive noise cancellation, and with THX® Spatial Audio's new Game Profiles feature making its debut, the BlackShark V2 is the new pinnacle of multi-platform, wired gaming headsets – designed and tested in conjunction with some of the world's top esports athletes.
BlackShark V2 esports gaming headset from Razer — the newest benchmark for competitive play. Play to win. Take your competition alive!Tweet this
In esports, clarity of sound and communications is everything. Being able to hear the slightest audio cue and communicate clearly with teammates makes the difference between the glory of the win or being a footnote on the tournament roster. For the Razer BlackShark V2, Razer has developed an entirely new 50mm audio driver which, coupled with a new custom-tuned microphone and superior passive noise cancelling earcups, creates the ultimate triple threat in esports – clear sounds, clear communication, and minimal external noise – a deadly audio trinity.
"Working with pro-players, we identified key areas where esports headsets needed to improve – positional audio, clarity of communications and noise cancellation," said Alvin Cheung, Senior Vice President of Razer's Peripherals Business Unit. "By addressing these three areas and implementing the solutions into the BlackShark V2, we've created a formidable headset. And by adding in the new THX Game Profiles, we've made the formidable into the unbeatable."
Tuned drivers for esports excellence
The Razer BlackShark V2 is equipped with an all-new, patented 50mm driver, the Razer TriForce Titanium. Using titanium-coated diaphragms, in a cutting-edge, proprietary design, the TriForce Titanium drivers separate the audio frequencies and allow for the individual tuning of the high, mid and low ranges, resulting in clearer trebles, a rich midrange and powerful bass.
The TriForce Drivers are complemented by THX Spatial Audio – an advanced positional audio solution for pinpoint accuracy and lifelike, immersive in-game sound that is compatible with stereo, 5.1 and 7.1 sources. The advanced THX spatial algorithms and world modelling technology, combined with unprecedented user-customization options, deliver a 360-degree soundscape tuned to each player's ears. THX Spatial Audio makes locating enemies, avoiding whizzing bullets, and detecting nearby threats easy and natural, giving gamers and esports athletes the infamous Razer 'unfair advantage'.

Read the complete story
Categorized in: Esports News