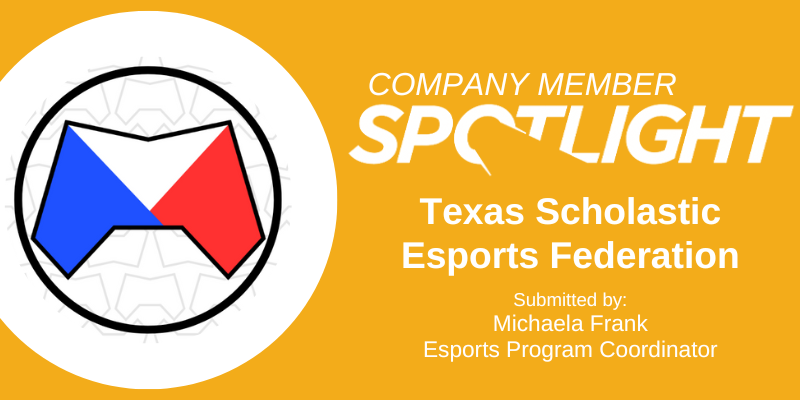 February 15, 2023
Tell us about your company!
The Texas Scholastic Esports Federation is a teacher-run, 501c(3) nonprofit organization serving Texas schools.
We serve as a hub and conduit for esports education information, connecting new to veteran coaches, activism campaigns, and advocating for student athletes and coaches.
We believe that esports can be an accessible, inclusive and equitable path to College, Career, & Military Readiness for all Texas students.
---
Why did your company get involved in the esports industry?
5 years ago we saw that there were few opportunities for students and teachers to learn how to compete within this industry so we decided to do something about it.
---
Since your company entered the esports industry, what has been the biggest industry change or trend that you've seen?
The growth of the industry within the past 5 years is staggering.
---
What work has the company has already done within the esports industry? What do you see as the company's biggest win since you started?
We helped new coaches every year on how to start their own programs, ran Fall/Spring League style tournament for the past 5 years, and advocate for esports to be in schools.
Winter Open '22
TEA Curriculum
UIL Sanction activity
---
How do you plan to dominate the space?
Keep on expanding, adding new industry partners, expanding our in-person events, connecting with more school districts.
---
What would your company like to see the esports industry do better?
Protection of our kids - COPPA
---
What does your company imagine the state of the esports industry will be like in 10 years and where do you imagine your company in that space?
We want to be the integral hub that connects high schools and colleges together. We want to help build a pipeline that connects HS, Colleges, & Industry.
---
Categorized in: Company Spotlight