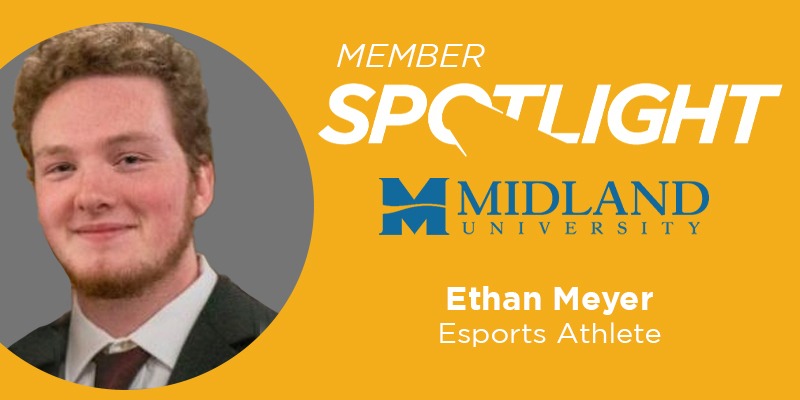 January 21, 2020
How did you get started in esports?
My beginning in esports was competing in "Team Fortress 2" in community tournaments. Previously, I'd just played to enjoy the game, but my drive to always improve got other competitive players to catch wind of me and push me to compete on a team. This was back in 8th Grade, and the thought of formally competing in video games was just unheard of to me, but it also beckoned to me as another way to hone my fundamentals and the team environment was satisfying when we started putting wins under our belt. That's when I knew it was for me.
What game do you primarily play in esports?
Currently, I'm on scholarship at Midland University to play on their "Overwatch" team. On top of "Team Fortress 2," I've also competed in "Black Ops 4," "Quake Champions," and "Super Smash Bros." in the past.
What opportunities would you like esports to offer you and/or future students?
As a student, I think it would be imperative to establish a competitive community at a regional level for schools with the best quality you can assure. There are already groups like this, but, talking from experience at the high school and collegiate level, the leagues are too lacking in communication, infrastructure, lack of legal representation, and just demand way too much from schools in order for them to even begin realistically investing into it.
From your perspective, what would you like to see the esports industry do better?
Something that needs to be a part of the conversation is the physical and mental well-being of everyone involved. Mental illness, repetitive strain injury, and many other forms are extremely prevalent in esports but is almost never talked about. I find esports just as demanding as any sport I've played previously and the mental stamina required is on par with taking the ACT/SAT.
What do you imagine the state of the esports industry will be like in 10 years?
One of the biggest backbones of the industry is the raw viewership that events get. Currently, there are projections for esports to surpass the NFL in viewership by 2021, which is surprising to me because I still have people my age surprised that I compete in esports and that I'm even on scholarship for it. The next four to five years will continue to show substantial growth, but I expect it to plateau. The industry feels like a metaphorical gold rush with every company rushing to find a place for themselves. Once everybody is established and spaces are filled, I expect it to decline as the hype about the growth disappears. The competition will remain just as strong, and the viewership will stay up to par with the quality of the competition.
Categorized in: Member Spotlight