October 9, 2020
TOKYO — Competitive video gaming, or esports, was one of the highlights of the recent Tokyo Game Show, underscoring its global market growth.
Japan is said to have various regulations acting as a drag on its esports market, but that is not stopping companies representing non-game industries such as Dai Nippon Printing, NTT East as well as others from breaking into it.
Their interest comes amid moves to address regulations for holding competitions. For example, a group of esports companies is working out rules for staging such events without violating Japan's law governing the amusement business.
At the Tokyo Game Show, Capcom hosted a competition for its "Street Fighter V" from Friday evening, streaming games between participants such as Daigo Umehara, winner of a global event, Hajime "Tokido" Taniguchi, a professional gamer who graduated from the University of Tokyo, and university students who passed the elimination round.
Esports cannot be ignored when it comes to video games. Newzoo, a Dutch research company, forecast that the market will have grown 1.7 times in 2023 from $950 million in 2019.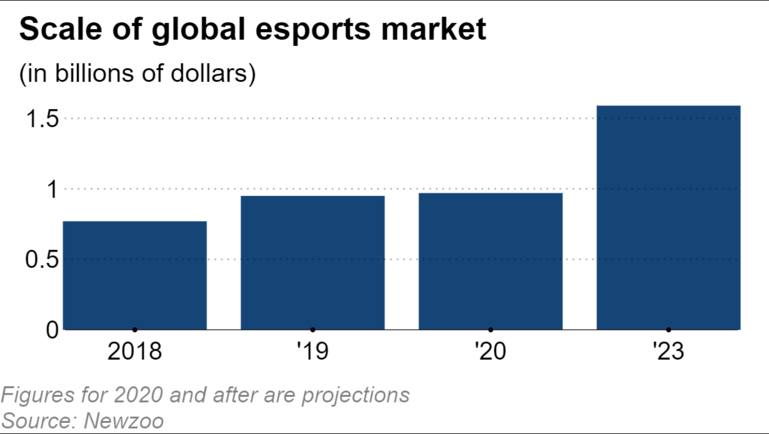 Overseas competitions include events in which winners claim millions of dollars in prize money. Live online telecasts are watched by hundreds of millions of people, especially youngsters, around the world. American and European companies have taken note of the promise of esports, taking out advertisements and engaging in other promotional activities.
In Japan, Dai Nippon Printing is readying an esports league for corporate competitors in cooperation with an NTT East subsidiary and other companies. Starting in June, it hosted a series of matches for players representing Fujitsu and 15 other companies as part of those preparations. An event in the series was watched online by as many as more than 80 million people.
Japan's top printing company sees esports as an amusement, such as golf, that can facilitate communication between people from different companies.
Financial services provider SBI Holdings, meanwhile, founded an esports subsidiary in June to boost its name recognition, especially among young people.
Categorized in: Esports News