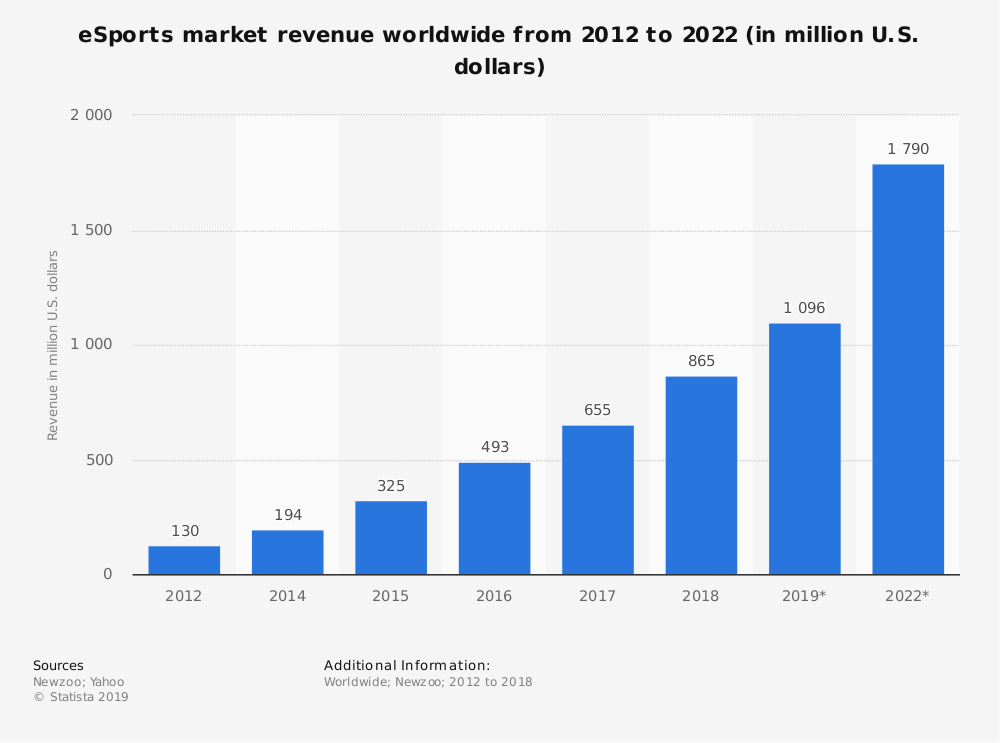 February 21, 2020
Esports stocks are on the rise. The industry grew steadily over the past few years, and experts believe the future is even brighter. Pro gaming's popularity amongst younger consumers could fuel growth in the industry for decades to come. It's no wonder that a lot of investors want to get a piece of this young and exciting industry. However, it can be difficult to get started if you don't know where to start.
Aspiring esports investors should know what they're getting into. Before you buy stocks, you should understand the esports industry. Start your esports investing journey with a quick dive into the industry.
Investing in Esports
According to studies by Newzoo, worldwide esports audiences totaled about 380 million viewers in 2018. That figure grew to 454 million in 2019, and it could rise to 654 million by the end of 2022.
Revenues also rose steadily over the past few years and could hit nearly $2 billion by 2022, according to Statista. However, esports companies are still exploring new ways to grow their businesses. If viewership continues to grow and esports stocks find sustainable ways to grow their businesses, it could result in prolonged growth for the sector.
For investors, the massive growth forecast of the esports sector is a great thing. With the expected growth of the industry, this could be the perfect time to buy esports stocks.
How Do Esports Companies Make Money?
Esports events make money by licensing their broadcasts, selling tickets, merchandise, and more. Video game developers also sell franchise rights to esports teams, so the actual game producers generate profits from esports too. For example, Activision Blizzard recently sold franchise rights to five teams for its Call of Duty League. These types of sales can fetch millions of dollars for gaming companies.
Large esports events also attract sponsorship deals and third-party advertisers. As the global esports audience grows, these channels could grow in popularity with advertisers and become more lucrative revenue streams as a result.
Categorized in: Esports News