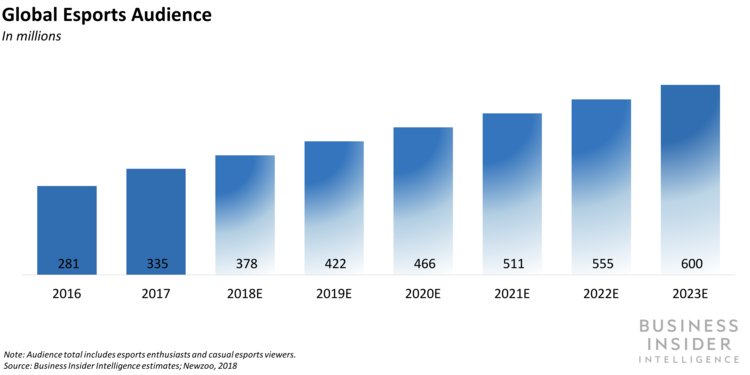 November 9, 2018
Esports, which is short for electronic sports, refers to competitive video gaming watched by spectators. Esports are not as mainstream as traditional sports in the US, but the number of esports fans globally is anticipated to climb 59% over the next five years.
And there's still significant room for growth beyond that — we predict that 600 million consumers globally will watch esports in 2023, up from 378 million in 2018.
A growing number of brands are acting to capitalize on the growth of esports as the majority of professional gaming fans are millennials and open to brand sponsors. Sixty-two percent of US esports viewers are aged 18-34, according to Activate, while 58% have a positive attitude towards brand involvement in esports, per Nielsen.
Meanwhile, Newzoo anticipates global esports sponsorship revenue to reach $359 million in 2018, up 53% year-over-year. The growing esports audience and brand activity helps explains why high-profile public figures are jumping in to capitalize on the action: In late October, basketball legend Michael Jordan and platinum-selling artist Drake both made investments into separate esports ventures, for example.
Categorized in: Esports News